The Original St James High School Morning Star Newspaper
As you may remember, the St James High School Morning Star newspaper was published monthly during the school year. Produced entirely by St James students under the guidance of a faculty advisor it was a source of student news and events written and photographed by students.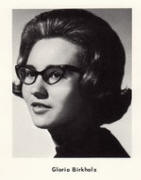 Gloria Birkholtz, co-editor our senior year with Cindy Hauser, saved almost all issues during her four years at St James. Missing only three or four issues she was able to recently contact and receive from the University of North Dakota, Elwyn B. Robinson Department of Special Collections, Chester Fritz Library, St James High School Documents, those missing issues placed there when St James closed in 1969.
Many thanks to Gloria for sharing excerpts from the Morning Star regarding our classmates for all four years the Class of 1964 attended St James. We present them here and hope they bring back many fond memories of our time together at St James. Thanks also, Gloria and Cindy Hauser and other staff members for all the hard work you did on The Morning Star so many years ago!
The Morning Star 1960-61 Freshman Year

The Morning Star 1961-1962 Sophomore Year

The Morning Star 1962-1963 Junior Year

The Morning Star 1963-1964 Senior Year