History of St James High School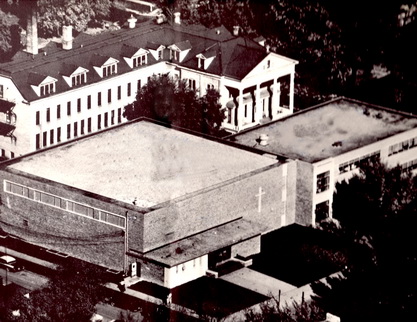 The Ursuline Sisters founded St. Bernard's Academy in 1885, with assistance from St. Michael's Catholic Church. Located at 1600 Fourth Avenue North, the Academy was a combined classroom and dormitory facility. Financial difficulties forced the Ursuline Sisters to sell the building, which was purchased by the Sisters of St. Joseph in 1914. The Sisters then opened St. James Academy, which stressed scholarship, music and the arts.

World War II halted efforts to renovate the building, as construction materials and labor where urgently needed for the war effort. Finally in 1956, after an aggressive, half-million dollar fund raising campaign, the new St. James High School was dedicated. The school had twelve classrooms as well as a large gymnasium/auditorium. Student enrollment at the time neared 400.

Construction of the new facility, however, did not end its financial concerns. Problems centered around the physical plant, originally constructed not long after the sale of St. Bernard's Academy in 1914. Recommendations to close St. James High School were received from both the local Catholic School Board, as well as the Diocesan Board.
The final commencement ceremony for St. James High School occurred on May 25, 1969, after which the school was closed.

Sources: They Came to Stay: Grand Forks, North Dakota Centennial: 1874-1974. p. 66

Grand Forks: A Pictorial History (1986): p. 25, 35

Grand Forks Herald: 25 May 1969
Taken From: ELWYN B. ROBINSON DEPARTMENT OF SPECIAL COLLECTIONS
CHESTER FRITZ LIBRARY
UNIVERSITY OF NORTH DAKOTA
GRAND FORKS, NORTH DAKOTA 58202
ST. JAMES HIGH SCHOOL RECORDS
COLLECTION: OGL #56
DATES: 1926-1969